How Kuje Prison Inmate Coordinates Fraud Syndicate from his Cell
The Inspector-General Police Special Intelligence Response Team has cracked down a fraud syndicate led by one Ifeanyi Ezenwa, an inmate of the Kuje Maximum Prison, Abuja.
PUNCH reports that the syndicate specialises in defrauding their victims, mostly businessmen using fake bank alerts.
It was gathered that the syndicate would approach the businessmen, pretending to buy goods from them.
"After negotiations, they would ask their victims to forward their account number in order to do a money transfer. They would inform their victim that the transfer had been made and the victim would receive an alert to the effect. But when a victim goes to the bank to confirm his balance, the money would not be in the account.

They did this mostly late on Fridays knowing that banks do not work on weekends and the victim may not be able to make any confirmation in the banking halls.

Usually, some victims would release the goods to them. The leader of the gang who is in prison… browses through online retail sites like OLX, JiJi and Jumia, where he connects with people who want to sell their valuables especially cars, chatting with them via Whatsapp," one IRT source said.
One of the syndicate's victims, Mohammed Saleke said that Ifeanyi swindled him of a Mercedes G Wagon worth N7m.
He said that Ezenwa sent one of his gang members who took a photography of the vehicle and negotiated the price with him.
"My boy, Obinna, was the one dealing with them and when they agreed to our price. They took my account number and went to the bank to withdraw the money.   They insisted on transferring the money to my Diamond Bank account.   When I gave it to them, I received an alert after one hour and I called them to come and collect their vehicle.  That was on a Friday, but by Monday when I went to the bank to check my account, I discovered there was no money paid in it.

When I received the alert, it had my previous balance in it and the total money was balanced.  I wondered how he was able to get access into my account. This incident happened in November 2016 and I have been looking for the vehicle," Saleke said.
Following petitions from some of their victims, an investigation was carried out and officers discovered a house in Abuja where a Mercedes G Wagon, a Hummer SUV and two Honda cars were recovered.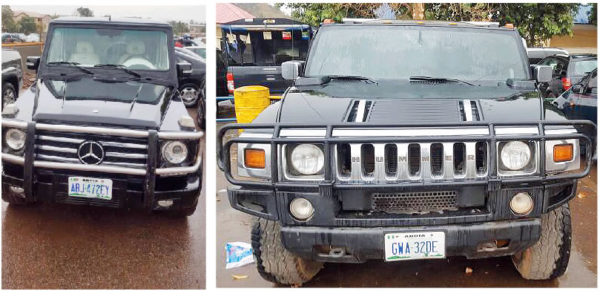 Share This Post